With the ever-increasing development along the Northern Front Range, many of Lyons Gaddis' irrigation company clients are asked to either permit a crossing of their ditch easement or to relocate their ditch to facilitate development. Both should result in an agreement. The difference between these two agreements is frequently not well understood but they are dramatically different legal agreements.
License Agreement for a Crossing
A license agreement for a crossing allows another party, frequently a developer, utility, telecommunication provider or a municipality, to install a crossing of their easement without affecting the easement. The license agreement does not grant an easement or other real property interest to the entity crossing. It simply allows or licenses the crossing on terms and conditions that protects the use of the ditch easement, covers all of the ditch company's costs and almost always assesses a modest license or crossing fee, generally in the range of $1,000 – $5,000 per crossing. These license agreements for crossings utilize fairly standard forms and are relatively simple to draft once the necessary information is obtained. These license agreements for crossings are also used for bridges, road crossings, utilizing culverts, and sometimes for overhead powerlines. The guiding principle is that the irrigation company's easement remains intact and unaffected.
Relocation Agreement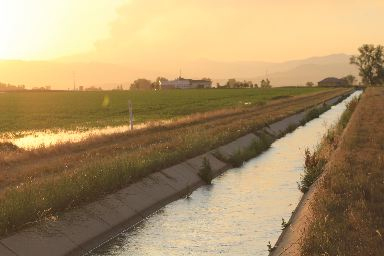 A relocation agreement involves moving the location of the ditch and associated easement, frequently around the boundary of the property and/or piping the ditch. Relocations can involve lateral or horizontal relocations as well as vertical relocations frequently into a pipe. They are requested to allow developments to proceed where the ditch bisects a portion of the property and makes a significant amount of acreage unusable. Relocation agreements are fundamentally different from license agreements for crossings because the ditch company is conveying, or abandoning, its existing easement and, as a result, must obtain a new easement from the landowner/developer. Because easements are real property interests, this is a real property transaction. These agreements are much more complicated, involve many more issues, and as a result, both the engineering and legal costs are almost always much higher than crossing agreements. Irrigation companies frequently charge significantly higher compensation to allow the agreement as developers gain a significant amount of more usable acreage. Agreements this firm has completed have assessed compensation from $50,000-$150,000, but compensation can range from company to company and vary by circumstances.
These two types of agreements are frequently confused. They should not be. They are fundamentally different.